A new festival is coming to Barrie called ZenFestival for holistic entrepreneurs!
ZenFestival is a festival celebrating holistic practitioners, artisans, meditation, music, food, yoga and so much more in Barrie Sunnidale Park July 13, 2019.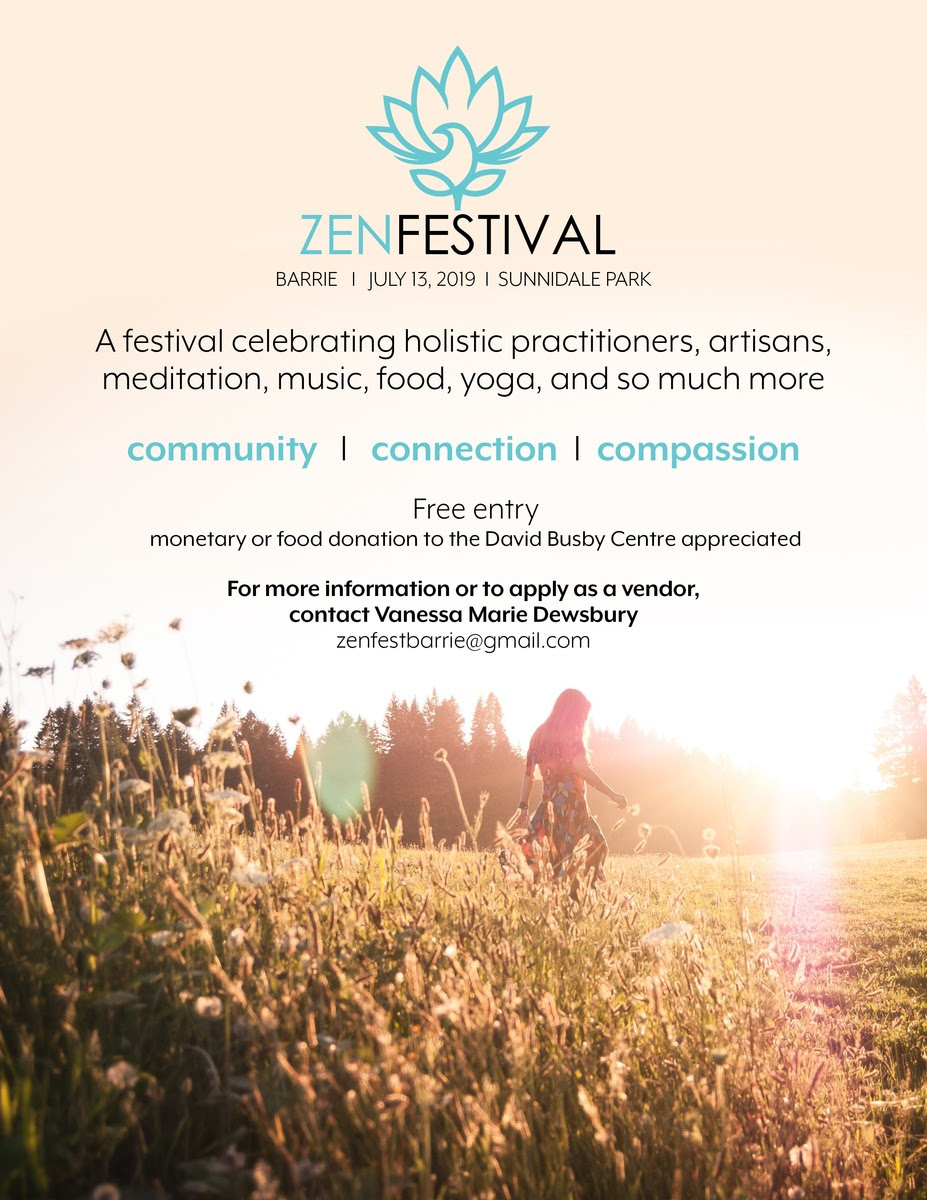 Do you know entrepreneurs interested in being as a vendor? Share Vanessa Marie Dewsbury's contact: zenfestbarrie@gmail.com.
Below is a copy of the application and letter of interest with all needed vendor info to speed track the process for any interested vendors.
LETTER FROM ZEN FEST
Thank you for your interest in ZenFestival, a community based event featuring holistic and alternative practitioners, natural and handmade
products, artisans, crafts, live music, and much more.
Our intention in creating ZenFestival is to bring awareness, connection, and learning to our community, and for people to discover the different services offered by our local businesses and entrepreneurs. A selection process is in place to not only ensure all vendors align with
ZenFestival's vision, but provide the community with a wide variety of experiences, opportunities, entertainment, products, and services.
Vendors are asked to bring their own tent (if required), table, and supplies. Set-up will take place between 9 and 10 AM, with tear-down
scheduled for 7 PM. Hydro is not provided on site.
The Dorion Centre will be open for use of the bathrooms.
Tables are $125, with a non-refundable deposit of $50 to hold your space.
The balance will be due one month prior the event.
This is a free event to attend, however, we will be asking the community to
provide food and/or monetary donations to the David Busby Centre.
Thank you again for your interest! ZenFestival is unique to Barrie and we're excited for our wonderful community to experience it.
For more information or to apply as a vendor, please contact Vanessa at zenfestbarrie@gmail.com.
VENDOR APPLICATION
Patricia is a business mentor who works with entrepreneurs to design, grow and improve their businesses.She is the business mentor who owns Grow Vantage and Inciteful Solutions, and is a sponsor of The Creative Space, a co-working entrepreneurial incubator in Barrie, Ontario, the community which she adopted in 2009.
Latest posts by Patricia Dent (see all)